Stone and stone-faced buildings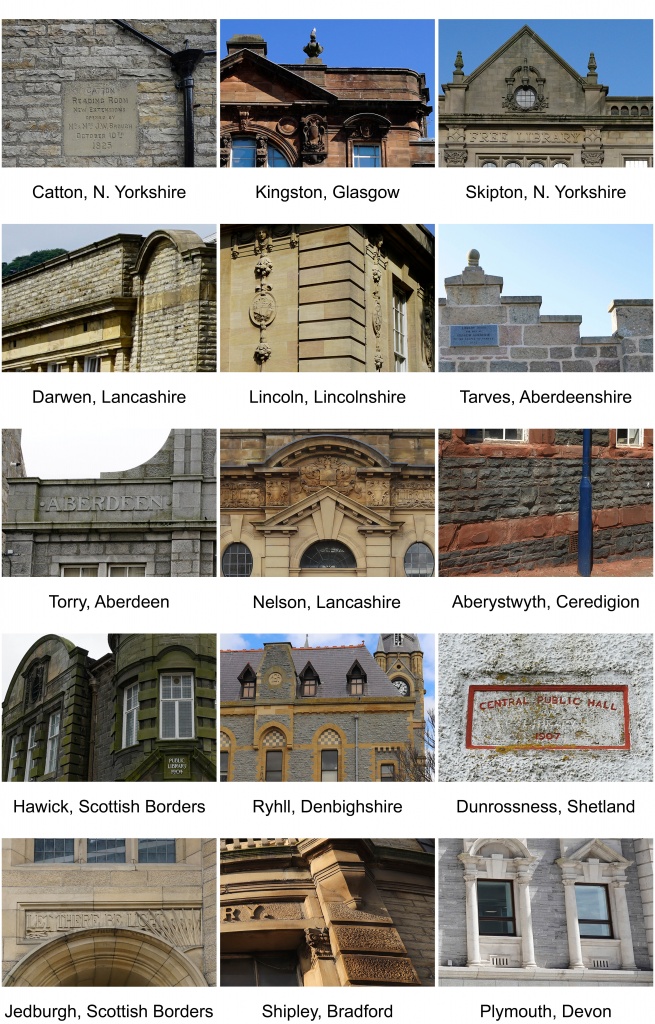 Whilst patent building components and standardised plan forms and building practices were being shared and adopted nationally and internationally, it is clear that local architects, surveyors and builders still predominantly worked with local stone as their main building material where it was available, especially in Scotland. It is also clear that in the main, the designers of these buildings, although often won in national competitions, were generally practicing close to the site.
The specification of a local quarry was often noted favourably in local press reports of the building's procurement for its associated economic benefits. In harsher climates, such as the Shetland Isles, it was common for stone buildings to be finished in roughcast render for further weather protection.
This study has not identified every quarry, nor every stone used but by noting the colour and texture of the masonry visually, it demonstrates clear regional consistencies as seen on our map as well as the relatively local association of the architects identified in the table below.
| | | | | | |
| --- | --- | --- | --- | --- | --- |
| Library's name | Designed by | of | Material | Postcode | |
| Aberdeen – Dyce Branch Library | William Dalton Ironside, Messrs Walker and George James Duncan | Aberdeen | Granite | AB21 7AY | |
| Aberdeen – Ferryhill Branch Library | Arthur Clyne, A. Brown, A. Watt | Aberdeen | Granite | AB11 6UP | |
| Aberdeen – Torry Branch Library | Arthur Clyne, A. Brown, A Watt | Aberdeen | Granite | AB11 9NJ | |
| Aberdeen Central Library | Alexander Brown and George Watt | Aberdeen | Granite | AB25 1GW | |
| Abergavenny Library | B.J. Francis | Abergavenny | Grey and yellow sandstone | NP7 5BD | |
| Aberystwyth Library | Walter G. Payton | Birmingham | Red and grey sandstone | SY23 2BT | |
| Advie | – | – | Granite | PH26 3LP | |
| Airdrie "new" Library | John Maurice Arthur | Airdrie | Yellow sandstone and granite | ML6 0AG | |
| Airdrie Arts Centre (Old Library) | George Arthur | Airdrie | Red sandstone | ML6 0AA | |
| Almondbury Library | K.F. Campbell (Borough Engineer) | Huddersfield | Yellow sandstone | HD5 8XB | |
| Annan Library | Sir George Washington Browne | Edinburgh | Red sandstone | DG12 6AA | |
| Annfield Plain Library | Edward Cratney | Willington-upon-Tyne | Yellow sandstone | DH9 8EZ | |
| Arbroath Academy and Public Library | James Black | Dundee | Red sandstone | DD11 1AH | |
| Ardrishaig Public Hall and Literary Institute | – | – | render | PA30 8EY | |
| Atherstone | – | – | Yellow sandstone | CV9 1AX | |
| Ayr Carnegie Library | Campbell Douglas & Morrison | Glasgow | Red sandstone | KA8 8EB | |
| Banff Library | C.W. Crosser | Banff | Yellow sandstone | AB45 1AE | |
| Barnoldswick (Earby) Library | – | – | Yellow sandstone | BB18 6Qx | |
| Barr | John Arthur | Glasgow | Render | KA26 9TW | |
| Barrow in Furness Library | Alderman John Charles | Barrow-in-Furness | Yellow sandstone | LA14 1LL | |
| Batley Library | Walter Hanstock & Son | Batley | Sandstone | WF17 5DA | |
| Beattock Summitt, Crawford | – | – | Rubble and red sandstone | DG10 9QZ | |
| Bettyhill Library | – | – | Render | KW14 7SU | |
| Birmingham – Kings Heath (Moseley) Library | Arthur Gilbey Latham | Birmingham | Sandstone | B14 7SW | |
| Birmingham – Northfield Library | Charles Edward Bateman & Alfred Hale | Birmingham | Yellow sandstone | B31 2LB | |
| Birmingham – Stirchley Library | John P. Osborne | Birmingham | Yellow sandstone | B30 2JT | |
| Bo'ness Carnegie Library | John More Dick Peddie & Sir George Washington Browne | Edinburgh | Yellow sandstone | EH51 9NJ | |
| Bollington | – | – | Sandstone | SK10 5JX | |
| Bolton – Halliwell | Henderson & Brown | Bolton | Red sandstone and terracotta | BL1 3BU | |
| Bolton upon Dearne (Dearne and Wombwell Boxing Club) | John Walker Wilson | Bolton-upon-Dearne | Yellow sandstone | S63 8AB | |
| Bonar Bridge Library | John Pond Macdonald | Inverness | Yellow sandstone | IV24 3EA | |
| Bonnyrigg Library | Greig, Fairbairn & Macniven | Edinburgh | Red sandstone and render | EH19 3AD | |
| Bridgwater Library | Ernest Godfrey Page | Bridgewater | Grey and yellow sandstone, render | TA6 3LF | |
| Bristol: Shirehampton Library | Frederick Bligh Bond | Bristol | Yellow sandstone | BS11 9TU | |
| Brydekirk | – | – | Render | DG12 5LY | |
| Brynmawr Library | Francis Ross Bates | Newport | Grey sandstone, yellow brick and yellow terracotta | NP23 4AJ | |
| Burnley Library | George Hartley and Arthur Race (Borough Engineer) | Barrow-in-Furness | Yellow sandstone | BB11 2BD | |
| Burntisland Library | William Williamson (City Architect) | Bradford | Yellow sandstone | KY3 9AS | |
| Burra (Hamnavoe) | – | – | Render | ZE2 9LA | |
| Cardiff – Canton Library | Edwin Montgomery Bruce Vaughan | Cardiff | Grey sandstone and limestone | CF5 1QD | |
| Cardiff – Cathays Library | Speir & Bevan | Cardiff | Grey sandstone and limestone | CF24 4PW | |
| Carron | Charles Chree Doig | Elgin | Granite | AB38 7QP | |
| Castle Douglas Library | John More Dick Peddie & Sir George Washington Browne | Edinburgh | Red sandstone | DG7 1AE | |
| Cheadle Hume Library | – | – | Sandstone | SK8 5AU | |
| Cheshunt Library | J. Myrtle Smith | London | Red sandstone | EN8 8LB | |
| Chillaton | – | – | Rubblestone with Brick Dressings | PL16 0HP | |
| Clackmannan | Ebenezer Simpson | Stirling | Red sandstone | FK10 4JA | |
| Clashmore | – | – | Yellow sandstone, render and timberframe | IV25 3RG | |
| Cleator Moor Library | E.M. Martindale | Workington | Yellow sandstone | CA25 5AP | |
| Clitheroe Library | S. Butterworth & W.H. Duncan | Rochdale | Yellow sandstone | BB7 2DG | |
| Clydebank Library | Alexander McInnes Gardner & Robert Whyte | Glasgow | Yellow sandstone | G81 1XH | |
| Coalsnaughton | John Shaw Leishman | Alloa | Render | FK13 6JW | |
| Coatbridge Library | Alex Cullen, Lochhead & Brown | Glasgow | Red sandstone | ML5 3AW | |
| Cockermouth Library | A. Marsh (Son of Cockermouth District Surveyor) | Cockermouth | Purple sandstone | CA13 9LU | |
| Coedpeth Bersham | William Moss | Wrexham | Pennant stone | LL11 3TD | |
| Craigellachie | (Major) William H Doig | Elgin | Blue Sandstone | AB38 9SW | |
| Cromarty Library (Hugh Miller Institute) | Alexander Ross & Robert John Macbeth | Inverness | Red and yellow sandstone | IV11 8XA | |
| Croy near Gollanfield | George Logie | Inverness | Granite | IV2 5FP | |
| Cubitt Town Library | Charles Harold Norton | London | Limestone | E14 3HG | |
| Cullivoe Shetland (North Yell) | – | – | Render | ZE2 9BB | |
| Cunningsburgh Shetland | – | – | Render | zE2 9HB | |
| Darwen Library and Theatre | Fred Harrison & Charles Spencer Haywood | Accrington | Sandstone | BB3 3BU | |
| Deiniolen Carnegie Library | Albert Henry Fennell (Fennell and Baddiley) | Chester-le-Street | Render | LL55 3HU | |
| Dingwall Library | William Cumming Joass | Dingwall | Yellow sandstone | IV15 9SB | |
| Dolgellau Mill Street Free Library | Edmund Auguste Fermaud | London | Stucco | LL40 1EY | |
| Doncaster – Mexborough library | – | – | Red and white sandstone | S64 9QD | |
| Drumoak Library | William Dalton Ironside, Messrs Walker and George James Duncan | Aberdeen | Granite | AB31 5ED | |
| Dudley – Quarry Bank library | – | – | Red sandstone | DY5 2JP | |
| Dumbarton Library | William Reid | Dumbarton | Yellow sandstone | G82 1BD | |
| Dundee – Arthurstone Community Library | William Alexander (City Architect) & James Thomson | Dundee | Red sandstone | DD4 6RT | |
| Dundee – Blackness Library | James Thomson & Frank Drummon Thomson | Dundee | Red sandstone | DD2 1EJ | |
| Dundee – St Roque's Library | James Thomson with William Carless | Dundee | Yellow sandstone | DD4 6AT | |
| Dundee Central Reading Room (The McManus Collections Unit / Barrack Street Museum) | James Thomson with William Carless | Dundee | Yellow sandstone | DD1 1PG | |
| Dunfermline Carnegie Library | James Campbell Walker extended 1914-21 by James Shearer | Edinburgh | Yellow sandstone | KY12 7NL | |
| Dunrossness | – | – | Render | ZE2 9JW | |
| Eccles Gateway | Edward Potts (Potts Son & Hennings) | Oldham | Limestone | M30 0TU | |
| Eccleston Newtown Carnegie Library | Briggs & Wolstenholme | Liverpool | Sandstone | WA10 4LZ | |
| Edinburgh – Corstorphine Library | Ebenezer James MacRae | Edinburgh | Granite | EH12 7HD | |
| Edinburgh Central Library | Sir George Washington Browne | Edinburgh | Yellow sandstone | EH1 1EG | |
| Ellon Carnegie reading Room (Melvin Hall Tarves) | – | – | Granite | AB41 7GX | |
| Ewart Library (Dumfries) | Alan B. Crombie | Dumfries | Red sandstone | DG1 1JB | |
| Falkirk Community Trust Library | McCarthy and Watson | Edinburgh | Red sandstone | FK1 5AU | |
| Flint Library (Town Hall) | John Welsh (original building) | Flint | Sandstone | CH6 5NW | |
| Fochabers Library (Bellie Parish) | – | – | Red sandstone | IV32 7DY | |
| Forss | – | – | Render | KW14 7XX | |
| Fraserburgh Library | William Stephen Fergusson Wilson | Fraserburgh | Granite | AB43 9PN | |
| Glasgow – Bridgeton District Library | James Robert Rhind | Glasgow | Yellow sandstone | G40 1BP | |
| Glasgow – Dennistoun Library & Learning Centre | James Robert Rhind | Glasgow | Yellow sandstone | G31 2NA | |
| Glasgow – Govanhill Library | James Robert Rhind | Glasgow | Yellow sandstone | G42 7JU | |
| Glasgow – Hutchesontown Library | James Robert Rhind | Glasgow | Red sandstone | G5 0NZ | |
| Glasgow – Kingston Library | Robert William Horn & Alexander Beith Mc Donald (city surveyor) | Glasgow | Red sandstone | G5 8RR | |
| Glasgow – Langside Library | George Simpson | Glasgow | Red sandstone | G42 9QE | |
| Glasgow – Maryhill Library | James Robert Rhind | Glasgow | Yellow sandstone | G20 9AD | |
| Glasgow – Parkhead Library | James Robert Rhind | Glasgow | Red sandstone | G31 4XA | |
| Glasgow – Partick Library | Office of Public Works | Glasgow | Yellow sandstone | G11 6AB | |
| Glasgow – Pollokshields Library | Thomas Gilchrist Gilmour revised by Alexander Beith McDonald | Glasgow | Red sandstone | G41 2TE | |
| Glasgow – Possilpark Library | George Simpson | Glasgow | Red sandstone | G22 5JJ | |
| Glasgow – Springburn Library | William Brown Whitie | Glasgow | Red sandstone | G21 4BW | |
| Glasgow – Woodside District Library | James Robert Rhind | Glasgow | Yellow sandstone | G3 6JQ | |
| Grangemouth Victoria Library | William Black | Falkirk | Yellow sandstone | FK3 8AG | |
| Great Holland | – | – | render | CO13 0JT | |
| Greenock Central Library | Mr.Matheson (original), Works managed by burgh electrical engineer, Mr WM Nelson and Master of Works – Greenock Telegraph and Clyde Shipping Gazette – Friday 15 March 1901 | Greenock | Yellow sandstone | PA15 1JB | |
| Guildtown | – | – | Render | PH2 6BY | |
| Hamilton | Alex Cullen, Lochhead & Brown | Glasgow | Yellow sandstone | ML3 6HH | |
| Harrogate Library | Henry Thomas Hare | London | Yellow sandstone | HG1 1EG | |
| Hatton (Cruden)(Slains) | William Davidson | Ellon | Granite | AB42 0HZ | |
| Haugh of Urr Hall and Public Library | – | – | Render | DG7 3YA | |
| Hawick Library | J. Nicholl Scott and Alexander Lorne Campbell | Edinburgh | Red sandstone | TD9 9QT | |
| Hebden Bridge Library | – | – | Yellow sandstone | HX7 8EP | |
| Heckmondwike Library | Henry Stead | Bolton | Yellow sandstone | WF16 0LY | |
| Heywood Library | North & Robin | London | Sandstone | OL10 1LL | |
| Homerton Library | Sir Thomas Edwin Cooper | London | Limestone | E9 6DF | |
| Horbury Library | Benjamin Watson | Batley | Yellow sandstone | WF4 6HP | |
| Hoswick (Stove or Sandwick) (Carnegie Hall) Shetland | – | – | Render | ZE2 9HH | |
| Hove Library | William Alban Jones & Percy Robinson | Leeds | Limestone | BN3 2EG | |
| Ilford Central Library | H. Shaw (District Surveyor) | Ilford | Limestone | IG1 1DD | |
| Innerleithen Library Contact Centre | Peter Lyle Barclay Henderson | Edinburgh | Yellow sandstone | EH44 6LA | |
| Invergarry | – | – | Render | PH35 4HL | |
| Inverurie Library | Harbourne Maclennan | Aberdeen | Granite | AB51 3SN | |
| Iona | – | – | Granite | PA76 6SJ | |
| Irongray Public Library and Hall (Shawhead Village) | – | – | Render | DG2 9SN | |
| Islington Central Library | Henry Thomas Hare | London | Limestone | N5 1PF | |
| Jedburgh Library | John More Dick Peddie & Sir George Washington Browne | Edinburgh | Yellow sandstone | TD8 6AS | |
| Kelso Library | John More Dick Peddie & Sir George Washington Browne | Edinburgh | Yellow sandstone | TD5 7JH | |
| Kendal library | T.F. Pennington | Kendal | Yellow sandstone | LA9 4PY | |
| King's Lynn Library | Herbert John Green | Norwich | Terracotta and cobble | PE30 5EZ | |
| Kingston Devon | – | – | render | TQ7 4QE | |
| Kinross Library | Peter Lyle Barclay Henderson | Edinburgh | Yellow sandstone | KY13 8DA | |
| Kyle of Lochalsh Library | – | – | Render | IV40 8AB | |
| Larbert Library | William Black | Falkirk | Yellow sandstone | FK5 4BL | |
| Leeds – Morley Library | W.E. Putman (Borough Engineer) | Morley | Yellow sandstone | LS27 8HZ | |
| Lincoln Central Library | Sir Reginald Theodore Blomfield | London | Limestone | LN2 1EZ | |
| Lindal & Marton Reading Room | W. Richardson (District Surveyor) | Dalton-in-Furness | Limestone | LA12 0LN | |
| Liverpool – Garston Library | Thomas Shelmerdine (Corporation Architect and Surveyor) | Liverpool | Red sandstone and render | L19 1QN | |
| Llandudno Library | George Alfred Humphreys | Llandudno | Yellow sandstone | LL30 2RP | |
| Llantwit Fardre Library | Arthur Lloyd Thomas | Pontypridd | Grey sandstone and stucco | CF38 1PY | |
| Loanhead | – | – | Granite | EH20 9RW | |
| Lockerbie | Frank James Chambers Carruthers | Lockerbie | Red sandstone | DG11 2HB | |
| Lossiemouth Library | A & W Reid & Wittet | Elgin | Yellow sandstone | IV31 6AA | |
| Low Row | – | – | yellow sandstone | DL11 6PE | |
| Lumphanan | – | – | Render | AB31 4SE | |
| Lybster library | – | – | Granite | KW3 6AE | |
| Manchester – Chorlton Library | Henry Price (City Architect) | Manchester | Limestone with red brick | M21 9PN | |
| Manchester – Withington Library | Henry Price (City Architect) | Manchester | Limestone with red brick | M20 3BD | |
| Mansfield Library 1 central + branch | Ernest R. Sutton and F.W. Gregory | Nottingham | Limestone | NG18 1NG | |
| Mary Tavy | – | – | Pebbledash | PL19 9QR | |
| Maxton Library | Greig, Fairbairn & Macniven | Edinburgh | Red sandstone | TD6 0RL | |
| Maybole Library | James Kennedy Hunter | Ayr | Red sandstone | KA19 7AB | |
| Merthyr Tydfil – Dowlais Library | E. A. Johnson | Abergavenny | Red and grey sandstone | CF48 3HS | |
| Merthyr Tydfil Central Library | Johnson Richards and Rees | Merthyr Tydfil | Limestone | CF47 8AF | |
| Mid Yell | – | – | Render | ZE2 9BN | |
| Middlesbrough Central Library | Sir Thomas Edwin Cooper | London | Yellow sandstone | TS1 2AY | |
| Mile End Central Library (Tower Hamlets Local History Library and Archives) Stepney | James Knight originally 1862, Extension by MW Jameson, Borough Surveyor | Tower Hamlets | Limestone | E1 4DQ | |
| Milnrow Library | S. Butterworth & W.H. Duncan | Rochdale | Yellow sandstone | OL16 3NP | |
| Montrose Library | James Lindsay Grant | Edinburgh | Red sandstone | DD10 8PH | |
| Motherwell | Greig, Fairbairn & Macniven | Edinburgh | Yellow sandstone | ML1 3BZ | |
| Nelson Library | J. Rigby Poyser & W. Brandreth Savidge | Nottingham | Yellow sandstone | BB9 7PX | |
| Nethy Bridge | – | – | Granite | PH25 3DG | |
| New Mills Library | Richard Bassnett Preston | Manchester | Sandstone | SK22 4AR | |
| Newmill Institute | – | – | yellow sandstone, rubble | AB55 6TW | |
| Nottingham – Bulwell Northern Branch Library Nottingham Journal – Tuesday 24 August 1915 | Bright & Thoms | Nottingham | Sandstone | NG6 9AE | |
| Orkney Library (Kirkwall) | James Malcolm Baikie | Kirkwall | Yellow sandstone and gray-ish | KW15 1NW | |
| Peebles Library | – | – | Yellow sandstone and render | EH45 8AG | |
| Penarth Library | Harry Snell | Penarth | Grey sandstone and limestone | CF64 2YT | |
| Penistone Library | Henry R. Collins | Barnsley | Red and yellow sandstone | S36 6DY | |
| Peterhead Library | Duncan McMillan | Aberdeen | Granite | AB42 1QD | |
| Pleasley (Verney Institute) | Parker and Unwin | Buxton | render | NG19 7PL | |
| Poplar Public Library | Squire, Meyers & Petch | London | Limestone | E14 6RN | |
| Portmahomack Carnegie Hall | John Pond Macdonald | Inverness | Yellow sandstone | IV20 1YD | |
| Prescot | – | – | render | L34 3LJ | |
| Prestonpans Library | P. Whitecross & James Pearson Alison | Hawick | Red sandstone | EH32 9NX | |
| Rhonehouse | – | – | Granite | DG7 1SA | |
| Rhyl Carnegie Free Library (Rhyl Town Hall) | A.A. Goodall (Town Surveyor) | Rhyl | Pennant stone and sandstone | LL18 1AB | |
| Rogerstone Library | Alfred Swash & John Bain | Newport | Grey and yellow sandstone | NP10 9EL | |
| Rosehall (Altass) | – | – | Render | IV27 4BD | |
| Rothwell Library | John Alfred Gotch | Kettering | Sandstone | NN14 6EP | |
| Royal Four Towns | – | – | render | DG11 1JN | |
| Rutherglen | George Sinclair and John Ballantine | Glasgow | Yellow sandstone | G73 2HB | |
| Sandwell – Tividale Library (Rowley Regis) | Herbert Winkler Wills and John Anderson | London | Limestone | B69 2PJ | |
| Scalloway Library | Duncan and John Ross McMillan | Aberdeen | Granite | ZE1 0TX | |
| Shipley | Abraham Sharp | Bradford | Yellow sandstone and yellow terracotta | BD18 1BX | |
| South Unst People's Institute (Uyeasound) | – | – | Render | ZE2 9DN | |
| Sowerby Bridge Library | C.L. Whitehead (council surveyor) | Sowerby Bridge | Yellow sandstone | HX6 2QG | |
| Spinningdale Free Library | Andrew Maitland & Sons | Tain | Render | IV24 3AD | |
| St Cyrus | – | – | Granite and render | DD10 0BQ | |
| Stirling | Henry 'Harry' Ramsay Taylor | Edinburgh | Yellow sandstone | FK8 2HX | |
| Stornoway Library | John Robertson | Inverness | Granite and yellow sandstone | HS1 2BE | |
| Strachur | – | – | yellow sandstone, rubble, render | PA27 8DF | |
| Stratford-upon-Avon Library | Edward Gibbs Holtom | Stratford Upon Avon | Yellow sandstone | CV37 6PZ | |
| Stromness Library | – | – | Render | KW16 3DF | |
| Swinton Library | – | – | Limestone | S64 8PU | |
| Symington | – | – | Render | KA1 5QZ | |
| Taibach Port Talbot Margam Community Library | John Cox (District Surveyor) | Margam | Grey and yellow sandstone | SA13 1LN | |
| Tain Library | Andrew Maitland & Sons | Tain | Yellow sandstone | IV19 1AZ | |
| Taunton Library | Alexander Colbourne Little & Ingreson C Goodson. | London | Red and yellow sandstone | TA1 4AJ | |
| Taynuilt | – | – | Render | PA35 1JH | |
| Templand | – | – | Render | DG11 1TY | |
| Thankerton | – | – | pebbledash | ML12 6NZ | |
| Thurso Library | Barbaretus Sinclair Macdonald | Thurso | Yellow sandstone | KW14 8AJ | |
| Tingwall | – | – | Render | ZE2 9XT | |
| Tinsley Library | E.S. Holmes & Adam Francis Watson | Sheffield | Yellow sandstone | S9 1UE | |
| Tongue | – | – | Render | IV27 4XQ | |
| Twynholm Hall | – | – | Render | DG6 4NT | |
| Vidlin Lunnasting public hall | – | – | Render | ZE2 9QB | |
| Waberthwaite and Corney Institute | – | – | render | LA19 5YJ | |
| Walls | – | – | Render | ZE2 9PD | |
| Wellington Carnegie | – | – | Red and yellow sandstone | TF1 1BD | |
| West Calder Library | William Baillie | Glasgow | Red and yellow sandstone | EH55 8DR | |
| Whalsay (Isbister) | – | – | Granite | ZE2 9AJ | |
| Whitehaven Library | Greig, Fairbairn & Macniven | Edinburgh | Red sandstone | CA28 7QT | |
| Wick Library | Thomas Greenshields Leadbetter & James McLellan Fairley | Edinburgh | Yellow sandstone | KW1 5AB | |
| Wombwell Library | Arthur B. Linford | Wombwell | Sandstone | S73 0BA | |
| Workington Library | W.A Mellon and George Wittet | York | Sandstone | CA14 2BD | |
| Worthing Library | Crouch Butler & Savage | Birmingham | Limestone | BN11 1HP | |