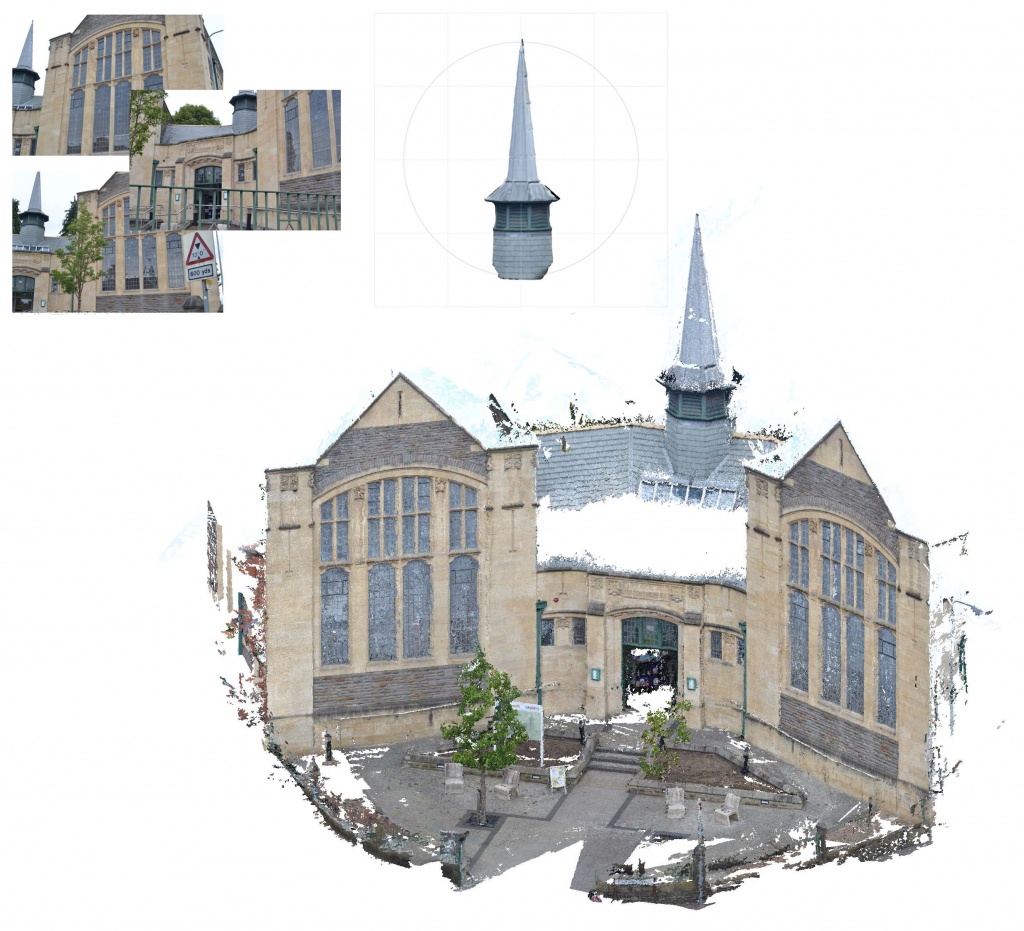 The ventilation design of library buildings was so important that it was almost always noted in the briefest descriptions in the architectural press. The prominence of ventilating turrets is evident in all public buildings of the era. The trade press is replete with new patent designs including Boyle's patent "Air-pump system", Climax Ventilating company's patent "direct-Acting Turret Ventilators" and Shorland's patent "Exhaust Roof Ventilators" .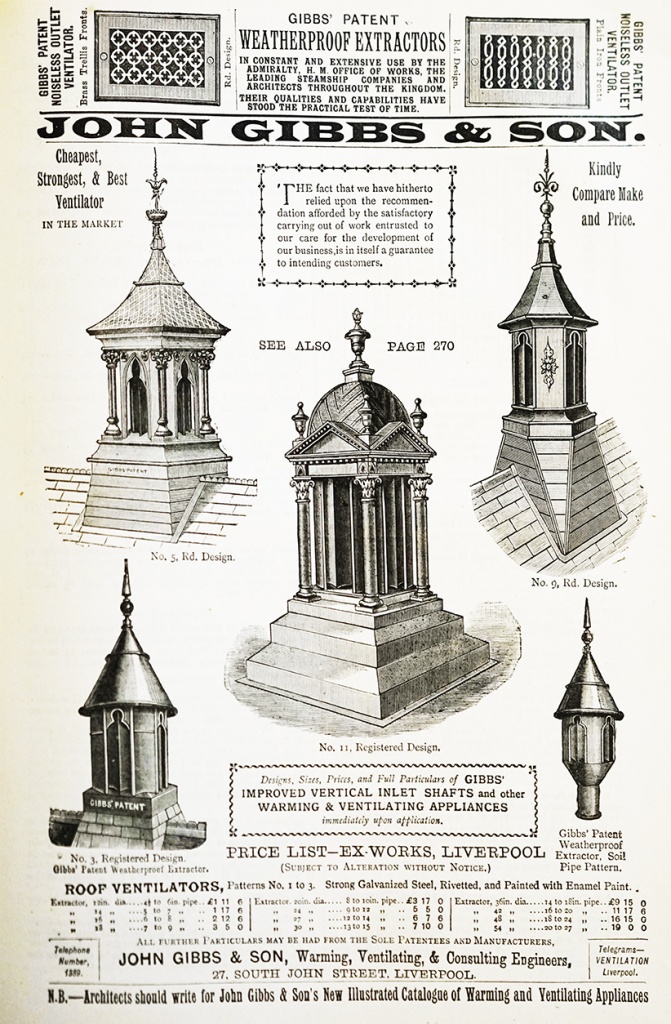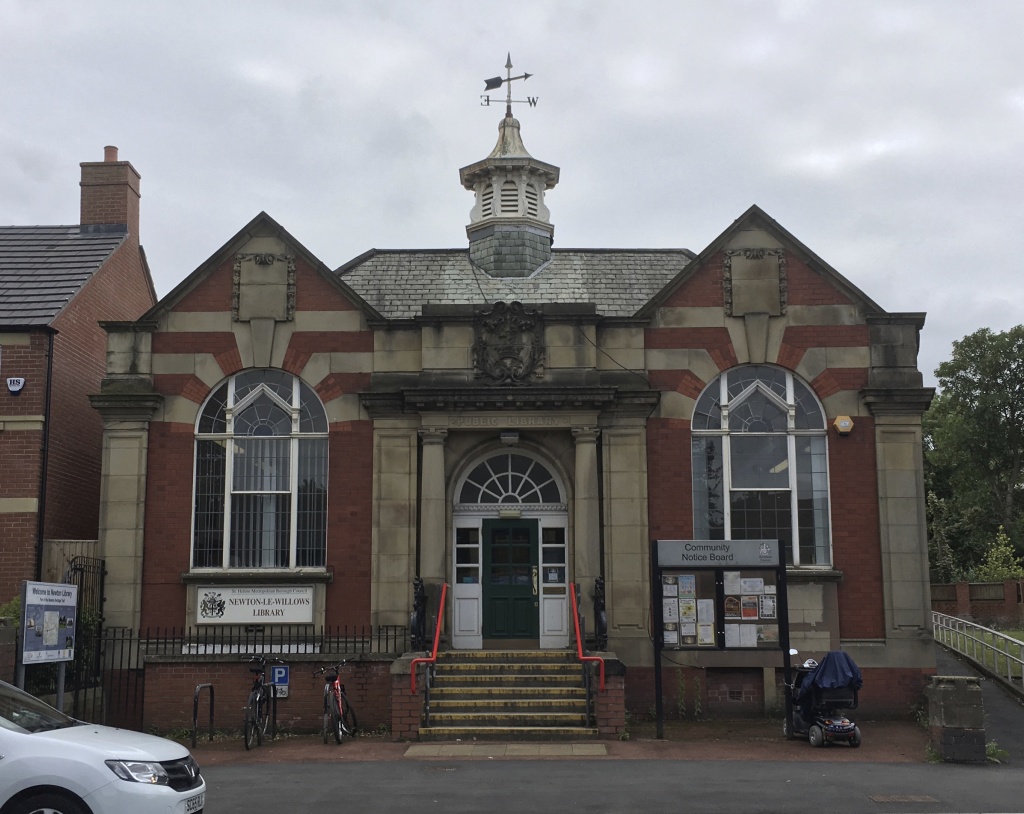 There are also multiple manufacturers offering each part of the kits required to assemble the electrically powered ventilation systems that were seen as vital to ensuring the sanitary performance of public libraries. The functioning of the fan system is illustrated in our computational fluid dynamics model of Cradley Heath Library. Instructions for the construction of a ventilating turret are provided in an issue of Building World.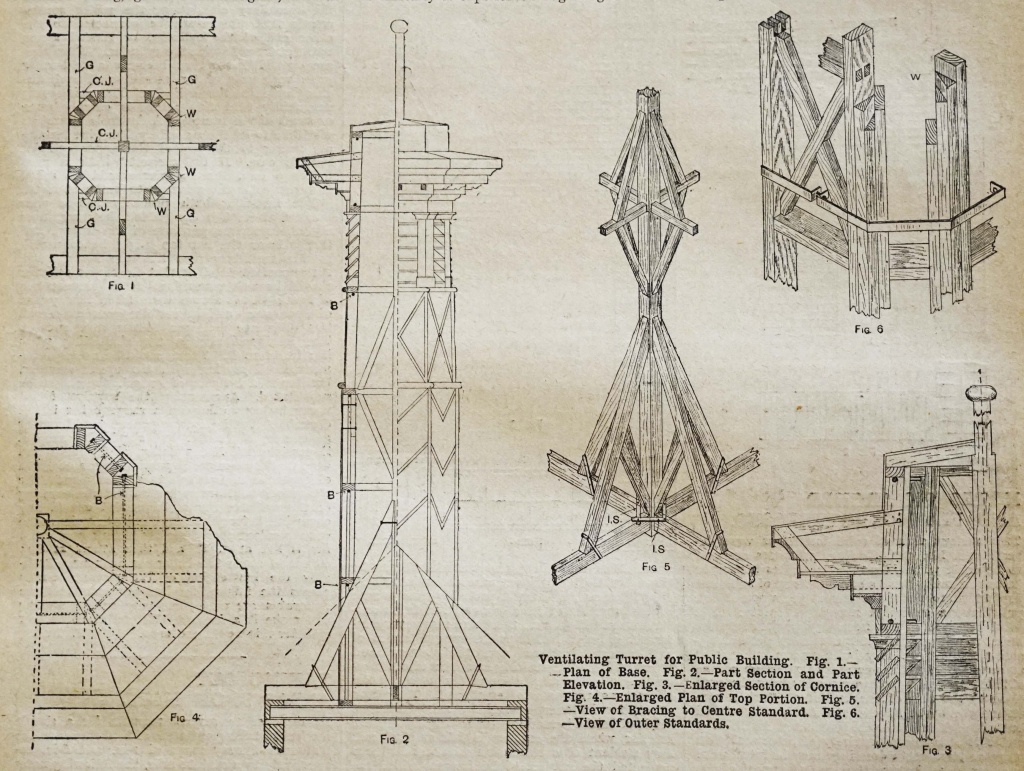 Extract from: Richardson, W. (1895). Building world. London, Printed and published by Cassell & Company Limited. No. 590 – February 2, 1907.
CONSTRUCTING A VENTILATING TURRET FOR A PUBLIC BUILDING
The turret here described and illustrated is intended to ventilate a large hall, and to improve the appearance of the roof. From numerous gratings in the ceiling, metal tubes lead to the turret, which they enter at the sides, to discharge foul air; and the turret, being closely boarded as far as the louvres with 1 in. boarding , grooved and tongued, acts as a flue, and carries all the impure air away. The draught may be assisted by having a radiator fixed inside the turret, if this arrangement is deemed to be necessary. On plan, the turret is as an irregular octagon and the height from base to top of finial is 44 ft the base being 7 ft 3 in. wide over the boarding and the top 6 ft 3 in over the boarding. The lower 20 foot 3 inches of height is perpendicular but the upper portion is battered 3 1/2 inches on each face.
Beneath the cornice, which projects 3 ft 6 in., the sides are filled with 12 in. by 1 1/4 in. elm or oak louvre boards. The whole of the outside, including the finial, but with the exception of moulds and fascias and soffits of cornice and louvres, is covered with lead as far as the roofline and has 2 inch Ridge rolls arranged as shown in figure 2 to give an ornamental appearance.