Rooflights and patent glazing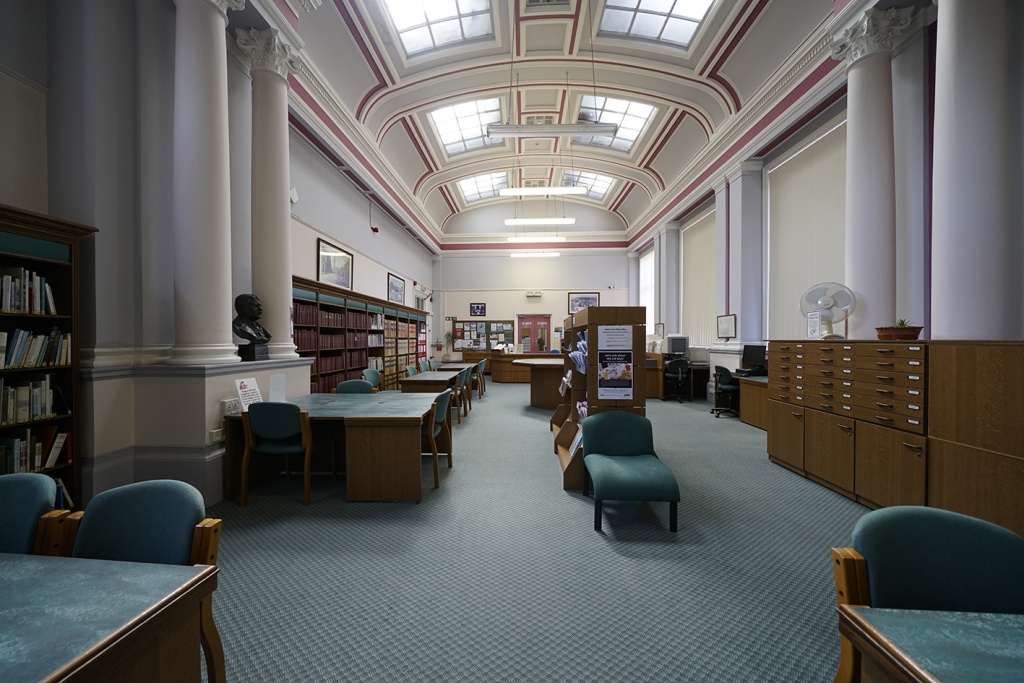 Patent glazing designs developed at a rapid pace at the turn of the twentieth century. There was huge demand for public places where extensive artificial illumination was unaffordable; for railway stations, markets, arcades, galleries and museums etc. They were also widely used in libraries for larger areas of roof glazing in line with the pitched roofs. These were often concealed by an inner translucent but not transparent glass ceiling such as those at Ayr library shown above.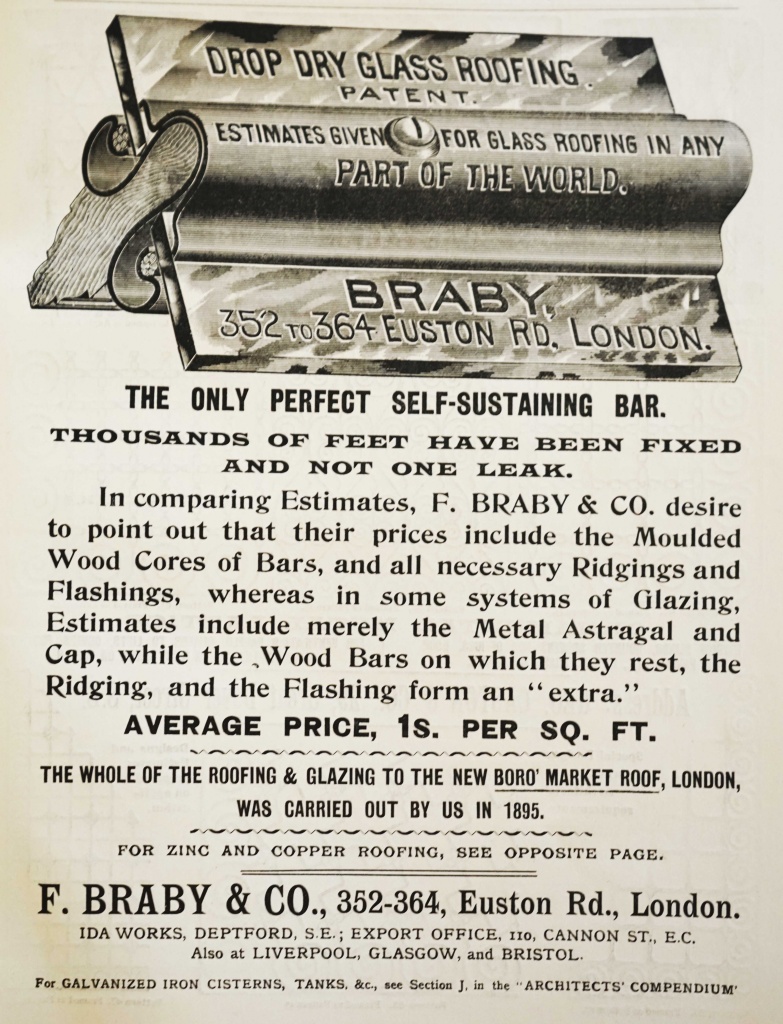 The potential for leaking is highlighted by the claim in this advertisement. Mellowes and Co.'s patent "Eclipse" roof glazing claimed to be "The only Absolutely Imperishable Glazing Unaffected by any atmospheric action", "No maintenance or painting required"[1]. Many libraries have since covered over their skylights since such promises proved to be unfounded. Nevertheless, our research has identified 135 open libraries that still have them.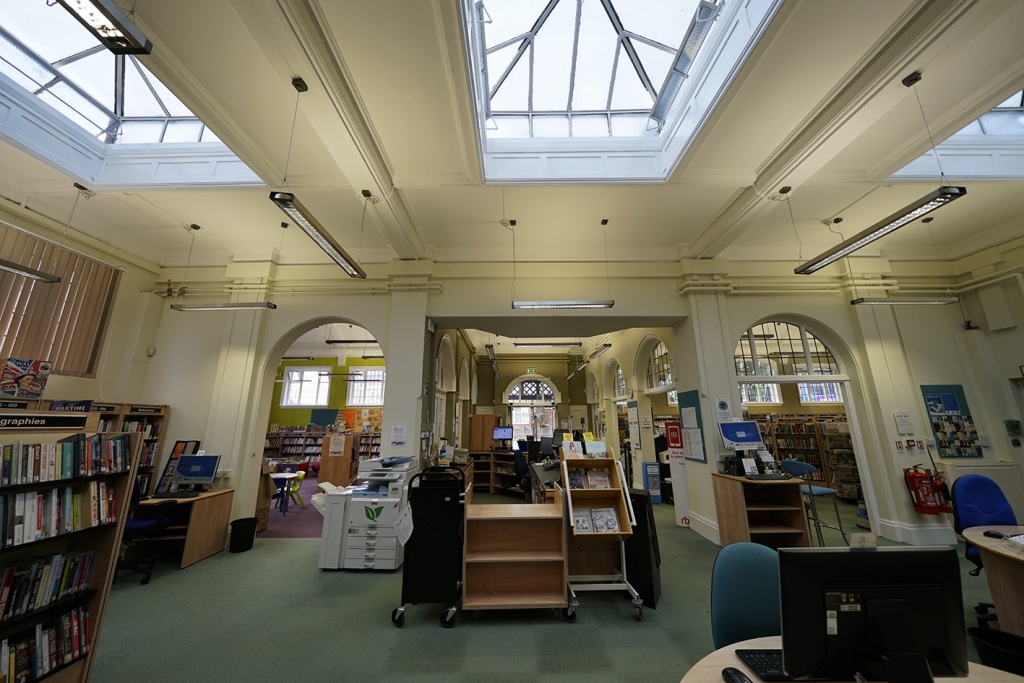 Lantern lights, on the other hand, which also feature in many libraries, would not necessarily use patent components. Although the designs were effectively standards, they would be framed and constructed as bespoke carpentry items as shown in the suggested schedule below from Building World; "SETTING OUT LANTERN LIGHT WITH FRAMED LININGS". The suggested materials specified are as follows: "The sills are of English oak or teak, the panels of American whitewood, the rest of the work being of yellow deal, free from sap."[2]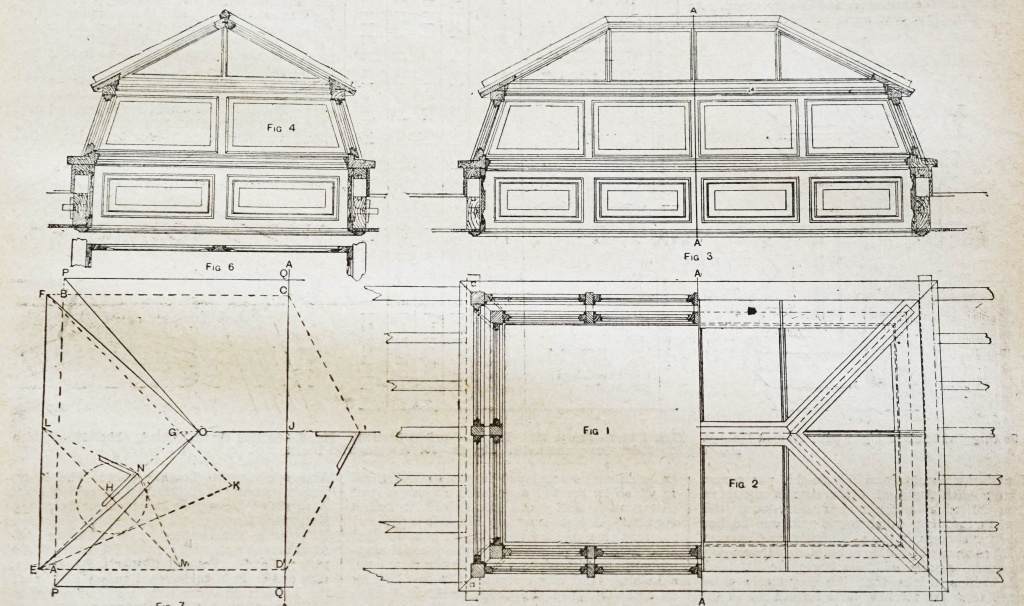 These lanterns were designed to be set into flat roofs, as shown below. Acknowledging the potential vulnerability of low pitched roofs, Henry Adams accompanying note comments that these are usually covered in lead although Ruberoid and asphalt were emerging as cheaper alternatives, he opines that they would not be "so long-lasting".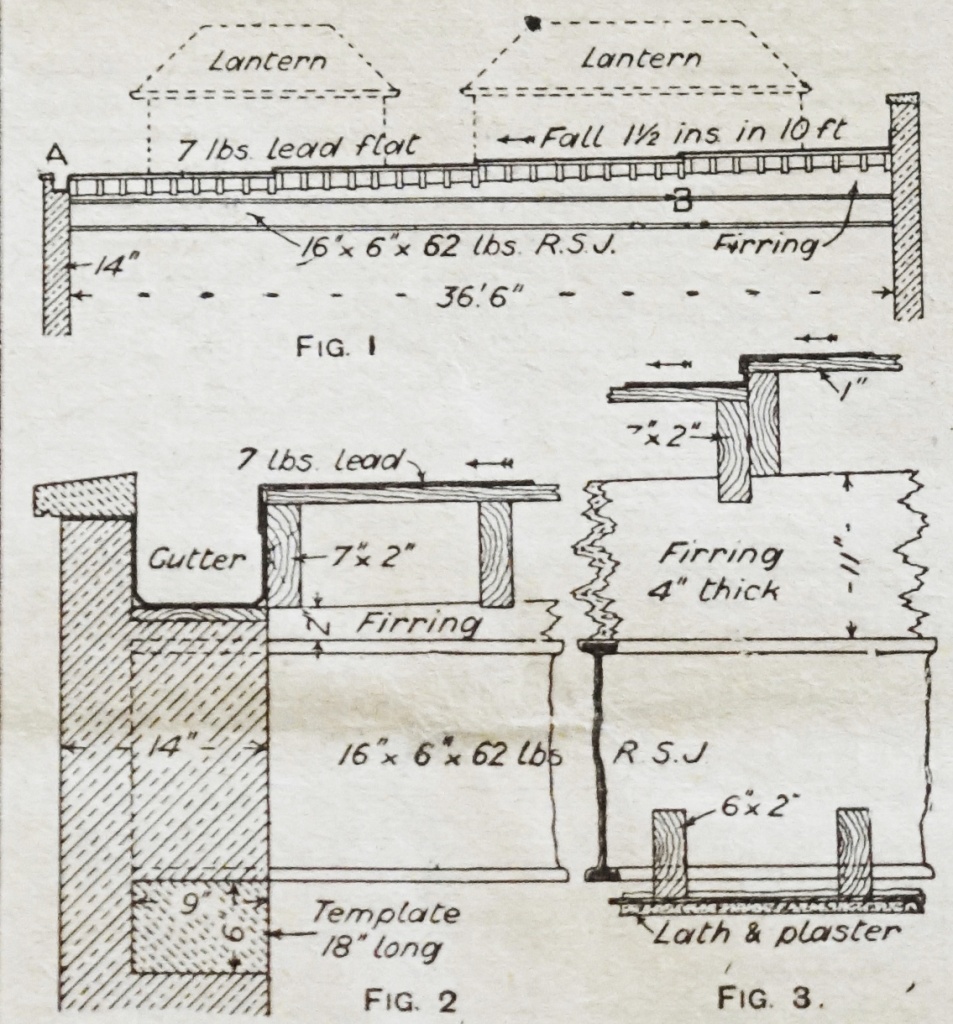 Listed below are the open Carnegie libraries that our research has found still to feature rooflights or skylights. Bearing in mind the challenge of maintaining these features a century after they were built, the heritage status of each building is noted as well as the management organisation at the time of the survey.
| | | | | | |
| --- | --- | --- | --- | --- | --- |
| Library name | Date | Designed by | Heritage status | Postcode | Managed by |
| Abergavenny Library | 1906 | B.J. Francis | LG II | NP7 5BD | council |
| Airdrie "new" Library | 1925 | John Maurice Arthur | Cat C | ML6 0AG | council |
| Almondbury Library | 1906 | K.F. Campbell (Borough Engineer) | none. | HD5 8XB | council |
| Annfield Plain Library | 1908 | Edward Cratney | LG II | DH9 8EZ | council |
| Arbroath Academy and Public Library | 1898 | James Black | Cat B | DD11 1AH | council |
| Ashton in Makerfield Library | 1906 | J. B. & W. Thornley | LG II | WN4 9BH | council |
| Ayr Carnegie Library | 1893 | Campbell Douglas & Morrison | Cat B | KA8 8EB | council |
| Bangor Public Library | 1907 | Dixon & Potter | none. | LL57 1DT | council |
| Barrow in Furness Library | 1922 | Alderman John Charles | LG II | LA14 1LL | council |
| Bideford Library and Museum | 1906 | A.J. Dunn | LG II | EX39 2HR | agency for council |
| Birmingham – Erdington Library | 1907 | John P. Osborne | LG II | B24 9HP | council |
| Birmingham – Kings Heath (Moseley) Library | 1906 | Arthur Gilbey Latham | LG II | B14 7SW | council |
| Birmingham – Kings Norton Library | 1906 | Benjamin Bower | none. | B30 3EU | council |
| Birmingham – Stirchley Library | 1907 | John P. Osborne | LG II | B30 2JT | council |
| Blackpool Central Library | 1911 | Alex Cullen, Lochhead & Brown | LG II | FY1 1PX | council |
| Bournemouth – Springbourne Public Library | 1909 | Harry E. Hawker & Victor Mitchell | none. | BH8 8BX | council |
| Bridgwater Library | 1906 | Ernest Godfrey Page | LG II | TA6 3LF | council |
| Burnley Library | 1930 | George Hartley and Arthur Race (Borough Engineer) | LG II | BB11 2BD | council |
| Cardiff – Canton Library | 1907 | Edwin Montgomery Bruce Vaughan | LG II | CF5 1QD | council |
| Cardiff – Cathays Library | 1907 | Speir & Bevan | LG II* | CF24 4PW | council |
| Caversham Free Public Library (one of 2 branches for Reading) | 1907 | W.G. Lewton | LG II | RG4 8AU | council |
| Clackmannan | 1903 | Ebenezer Simpson | none. | FK10 4JA | council |
| Clapton Public Library | 1913 | Sir Thomas Edwin Cooper | LG II | E5 8RA | council |
| Clitheroe Library | 1905 | S. Butterworth & W.H. Duncan | LG II | BB7 2DG | council |
| Clydebank Library | 1913 | Alexander McInnes Gardner & Robert Whyte | Cat B | G81 1XH | council |
| Coventry – Earlsdon Library | 1913 | J.E. Swindlehurst (City Engineer and Surveyor) | none. | CV5 6FZ | community |
| Coventry – Foleshill Library | 1913 | J.E. Swindlehurst (City Engineer and Surveyor) | none. | CV6 5BG | council |
| Crofton Park Library and Re-Use centre | 1905 | Albert L. Guy | none. | SE4 2AG | community |
| Cromarty Library (Hugh Miller Institute) | 1904 | Alexander Ross & Robert John Macbeth | Cat C | IV11 8XA | council |
| Cubitt Town Library | 1905 | Charles Harold Norton | LG II | E14 3HG | council |
| Custom House Library | 1905 | John G. Morley (Borough Engineer) | none. | E16 3JJ | council |
| Dartford Central Library & Museum | 1916 | Thomas Edward Tiffin (Town Surveyor) | LG II | DA1 1EU | council |
| Darwen Library and Theatre | 1908 | Fred Harrison & Charles Spencer Haywood | LG II | BB3 3BU | council |
| Dumbarton Library | 1910 | William Reid | none. | G82 1BD | council |
| Dundee – Coldside Library | 1908 | James Thomson & Frank Drummon Thomson | Cat A | DD3 7SE | council |
| Eccles Gateway | 1907 | Edward Potts (Potts Son & Hennings) | LG II | M30 0TU | council |
| Edinburgh – Corstorphine Library | 1904 | Ebenezer James MacRae | Cat C | EH12 7HD | council |
| Edinburgh Central Library | 1890 | Sir George Washington Browne | Cat A | EH1 1EG | council |
| Eltham Central Library (Woolwich) | 1906 | Maurice Bingham Adams | LG II | SE9 1HA | agency for council |
| Ewart Library (Dumfries) | 1904 | Alan B. Crombie | Cat B | DG1 1JB | council |
| Falkirk Community Trust Library | 1902 | McCarthy and Watson | Cat B | FK1 5AU | agency for council |
| Fraserburgh Library | 1905 | William Stephen Fergusson Wilson | none. | AB43 9PN | council |
| Fratton Carnegie Library (Portsmouth) | 1906 | George Rake & Arthur Edward Cogswell | LG II | PO1 5EZ | council |
| Fulham Central Library | 1909 | Henry Thomas Hare | LG II | SW6 5NX | council |
| Gainsborough Library | 1905 | H.G. Gamble | LG II | DN21 2NG | agency for council |
| Gateshead Central Library | 1926 | David William Ditchburn | none. | NE8 4LN | council |
| Glasgow – Dennistoun Library & Learning Centre | 1905 | James Robert Rhind | Cat B | G31 2NA | council |
| Glasgow – Langside Library | 1915 | George Simpson | Cat B | G42 9QE | council |
| Glasgow – Maryhill Library | 1905 | James Robert Rhind | Cat B | G20 9AD | council |
| Glasgow – Parkhead Library | 1906 | James Robert Rhind | Cat B | G31 4XA | council |
| Glasgow – Partick Library | 1926 | Office of Public Works | Cat C | G11 6AB | council |
| Glasgow – Pollokshields Library | 1907 | Thomas Gilchrist Gilmour revised by Alexander Beith McDonald | Cat B | G41 2TE | council |
| Glasgow – Possilpark Library | 1913 | George Simpson | Cat B | G22 5JJ | council |
| Glasgow – Woodside District Library | 1905 | James Robert Rhind | Cat B | G3 6JQ | council |
| Grangemouth Victoria Library | 1889 | William Black | none. | FK3 8AG | agency for council |
| Gravesend Library | 1905 | Edmund John Bennett | LG II | DA12 1AQ | council |
| Greenock Central Library | 1902 | Mr.Matheson (original), Works managed by burgh electrical engineer, Mr WM Nelson and Master of Works – Greenock Telegraph and Clyde Shipping Gazette – Friday 15 March 1901 | none. | PA15 1JB | council |
| Hamilton | 1914 | Alex Cullen, Lochhead & Brown | Cat B | ML3 6HH | council |
| Hammersmith Library | 1905 | Henry Thomas Hare | LG II | W6 7AT | council |
| Hanwell Library | 1905 | T. Gibbs Thomas | none. | W7 3HL | council |
| Hawick Library | 1904 | J. Nicholl Scott and Alexander Lorne Campbell | Cat B | TD9 9QT | agency for council |
| Heywood Library | 1906 | North & Robin | LG II | OL10 1LL | council |
| Highgate Library (Hampstead) | 1906 | William Nisbet Blair (Borough Engineer) | LG II | N19 5DH | council |
| Ilkeston Library | 1904 | Hunter and Woodhouse | LG II | DE7 5RN | council |
| Ilkley Library | 1907 | William Bakewell | LG II | LS29 8HA | council |
| Ipswich County Library | 1924 | Henry Munro Cautley | LG II | IP1 3DE | council |
| Islington Central Library | 1907 | Henry Thomas Hare | LG II | N5 1PF | council |
| Jedburgh Library | 1900 | John More Dick Peddie & Sir George Washington Browne | Cat B | TD8 6AS | agency for council |
| Keighley Library | 1904 | Arthur Ernest McKewan & James Arthur Swan | LG II | BD21 3SH | council |
| Kendal library | 1909 | T.F. Pennington | LG II | LA9 4PY | council |
| Kettering Library | 1904 | J. Goddard, A.H. Paget & W.A. Catlow | LG II | NN16 0AY | council |
| Kilburn Library | 1907 | Mr G.A. Sexton (Original building by Edmeston & Gabriel in 1894) | none. | NW6 6NN | council |
| King's Lynn Library | 1905 | Herbert John Green | LG II | PE30 5EZ | council |
| Kingston-upon-Thames Public Library (Museum and Art Gallery) | 1903 | Alfred Cox | LG II | KT1 2PS | council |
| Lambeth Herne Hill Carnegie Library | 1906 | H. Wakeford & Sons | LG II | SE24 0AG | council |
| Lea Bridge Library | 1906 | William Jacques | LG II | E10 7HU | council |
| Leeds – Bramley Library | 1927 | George Herbert Foggitt & J. Addison | none. | LS13 3ND | council |
| Leeds – Morley Library | 1906 | W.E. Putman (Borough Engineer) | LG II | LS27 8HZ | council |
| Leicester Central Library | 1905 | Edward Burgess | LG II | LE1 6AA | council |
| Lincoln Central Library | 1914 | Sir Reginald Theodore Blomfield | LG II | LN2 1EZ | agency for council |
| Littleborough Library | 1903 | S. Butterworth & W.H. Duncan | none. | OL15 9HE | council |
| Littlehampton Library | 1906 | Harry Howard | none. | BN17 5NA | council |
| Liverpool – Garston Library | 1909 | Thomas Shelmerdine (Corporation Architect and Surveyor) | LG II | L19 1QN | council |
| Liverpool – Old Swan Library | 1913 | Thomas Shelmerdine (Corporation Architect and Surveyor) | none. | L13 5XG | council |
| Liverpool – Sefton Park Library | 1911 | Thomas Shelmerdine (Corporation Architect and Surveyor) | LG II | L17 4JS | council |
| Liverpool – Toxteth Library (South-end) | 1902 | Thomas Shelmerdine (Corporation Architect and Surveyor) | LG II | L8 1XF | council |
| Long Eaton Library | 1906 | Child, Gorman and Ross | LG II | NG10 1JG | council |
| Loughborough Library | 1905 | Barrowcliff & Allcock | LG II | LE11 3DZ | council |
| Malvern Library | 1906 | Henry Arthur Crouch | LG II | WR14 2HU | council |
| Manchester – Didsbury Library | 1915 | Henry Price (City Architect) | LG II | M20 2DN | council |
| Manchester – Failsworth Library | 1909 | Ernest Ogden & Percy Cartwright Hoy | none. | M35 0AE | council |
| Manchester – Radcliffe library | 1907 | Henry Lord | none. | M26 1WR | council |
| Merthyr Tydfil – Dowlais Library | 1907 | E. A. Johnson | LG II | CF48 3HS | council |
| Middlesbrough Central Library | 1912 | Sir Thomas Edwin Cooper | LG II | TS1 2AY | council |
| Mile End Central Library (Tower Hamlets Local History Library and Archives) Stepney | 1906 | James Knight originally 1862, Extension by MW Jameson, Borough Surveyor | LG II | E1 4DQ | council |
| Milnrow Library | 1908 | S. Butterworth & W.H. Duncan | LG II | OL16 3NP | council |
| Motherwell | 1906 | Greig, Fairbairn & Macniven | Cat B | ML1 3BZ | council |
| Neston Library | 1907 | Green Knowles & Russell | none. | CH64 6QE | council |
| Newton-le-Willows Library (Newton in Makerfield)(Earlestown) | 1909 | J. Myrtle Smith | none. | WA12 9TX | council |
| Northamptonshire Central Library | 1910 | Herbert Norman | LG II | NN1 2BA | council |
| Nottingham – Basford Branch Library Nottingham Journal – Tuesday 24 August 1915 | 1926 | Ernest R. Sutton & Sons | none. | NG6 0AR | council |
| Nottingham – Meadows Southern Branch Library | 1925 | Arthur Dale City Engineer's Office) | none. | NG2 2DR | council |
| Nottingham – Radford Lenton Library | 1926 | T.Wallis Gordon (City Engineer) | none. | NG7 2BY | council |
| Oswaldtwistle Carnegie Library | 1915 | Frank Quentery Farmer | none. | BB5 3HS | council |
| Peebles Library | 1912 | | Cat A | EH45 8AG | agency for council |
| Penarth Library | 1905 | Harry Snell | LG II | CF64 2YT | council |
| Plumstead Public Library | 1904 | Frank Sumner (Borough Surveyor) | LG II | SE18 1JL | agency for council |
| Prestonpans Library | 1905 | P. Whitecross & James Pearson Alison | Cat B | EH32 9NX | council |
| Rawtenstall Library | 1906 | Crouch Butler & Savage | LG II | BB4 6QU | council |
| Royton Library | 1907 | S. Butterworth & W.H. Duncan | none. | OL2 6QJ | council |
| Rushden Library | 1905 | William Beresford Madin (Town Surveyor) | none. | NN10 0PT | council |
| Rutherglen | 1907 | George Sinclair and John Ballantine | Cat B | G73 2HB | council |
| Sandwell – Cradley Heath Library (Rowley Regis) | 1909 | Herbert Winkler Wills and John Anderson | LG II | B64 5JU | council |
| Sandwell – Langley Green Library (Oldbury & Langley) | 1909 | Abel Round | none. | B68 8QT | council |
| Sandwell – Wednesbury Library | 1908 | Crouch Butler and Savage | LG II | WS10 9EH | council |
| Sandwell – West Bromwich Central Library | 1907 | Stephen James Holliday | LG II | B70 8DZ | council |
| Stamford Library | 1906 | Alfred George Hall & John Henry Arthur Phillips | LG II | PE9 2BB | council |
| Stirling | 1904 | Henry 'Harry' Ramsay Taylor | Cat B | FK8 2HX | council |
| Stoke Newington Library | 1904 | H.H. Bridgman & Goss (originally 1892) | LG II | N16 0JS | council |
| Stratford-upon-Avon Library | 1903 | Edward Gibbs Holtom | LG II | CV37 6PZ | council |
| Sunderland – Hendon Carnegie Library | 1908 | Edward Cratney | none. | SR2 8JG | community |
| Sunderland – Kayll Road West Branch Library | 1909 | Hugh Taylor Decimus Hedley | LG II | SR4 7TW | community |
| Sydenham Library | 1904 | Albert L. Guy | none. | SE26 5SE | community |
| Teddington Library | 1906 | Henry Arthur Cheers | LG II | TW11 8NY | council |
| Thornton Heath Library (Croydon) | 1914 | Eric Edwin Hodder & G.F. Carter | none. | CR7 7JB | council |
| Walkley Library | 1905 | William Frederick Hemsoll & Henry Leslie Paterson | LG II | S6 3TD | community |
| Wallasey (Liscard) Central Library | 1911 | R.B. MacColl & George Edward Tonge | none. | CH45 5DX | council |
| Walthamstow Central Library | 1909 | J.Williams Dunford | LG II | E17 7JN | council |
| West Calder Library | 1904 | William Baillie | Cat B | EH55 8DR | council |
| West Greenwich Library | 1907 | Herbert Winkler Wills and John Anderson | LG II | SE10 8NN | agency for council |
| Whitehaven Library | 1906 | Greig, Fairbairn & Macniven | none. | CA28 7QT | council |
| Willesden Green Library | 1907 | A.H. Murray Rust | none. | NW10 2SF | council |
| Wolverhampton Library | 1902 | Henry Thomas Hare | LG II* | WV1 3AX | council |
| Wombwell Library | 1907 | Arthur B. Linford | none. | S73 0BA | council |
| York Central Library | 1927 | Brierley and Rutherford | LG II | YO1 7DS | council |
---
---
[1] Advertisement for Mellowe's Eclipse Patent Glazing The engineers' and surveyors' compendium and diary. 1899. London, Compendium Publishing & Advertising Co. p.4
[2] Extract from: Richardson, W. (1895). Building world. London, Printed and published by Cassell & Company Limited. No. 598 – March 30, 1907 p.410