Brick walls with Stone or Terracotta dressings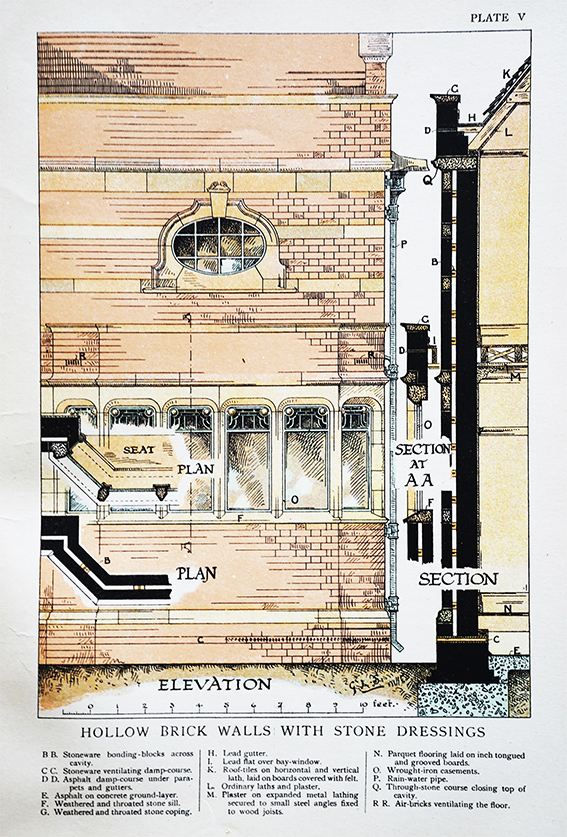 In the Midlands and South East of England, the most common materials used for Carnegie Library (and many other public and institutional) buildings of the time, were red brick with contrasting stone or terracotta dressings. Our detailed study of Toxteth library showed that hollow walls were used in its construction but that these were significantly more substantial than the single skin cavity walls that became the norm later in the century.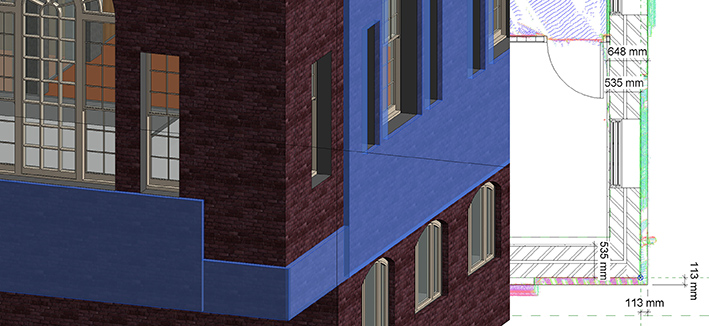 Whilst Pevsner noted the eye-catching striped Tipton Library in Birmingham to be the architectural highlight of the town, the most enterprising use of terracotta dressings for a Carnegie library in the UK is probably at Manor Park Library in East London. The building was designed by a Scottish architect, Adam Horsburgh Campbell who was later noted for his experimentation with concrete[i].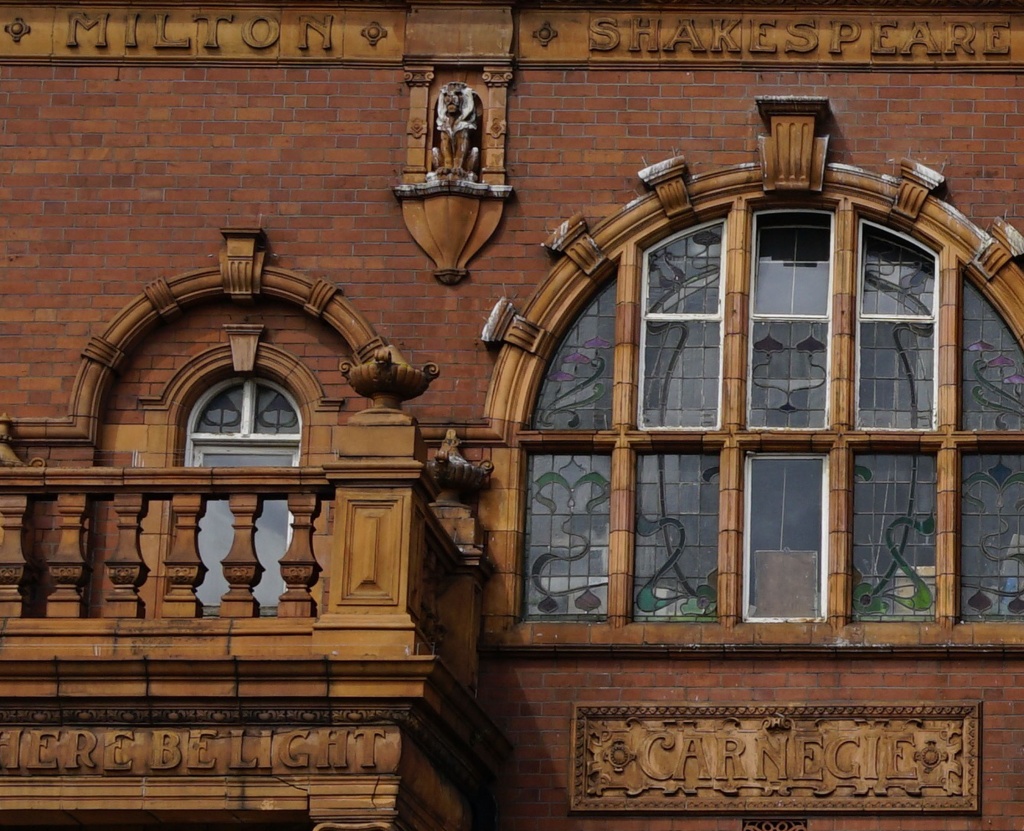 Meanwhile the most inventive use of stone dressings and contrasting red brick is at Failsworth, Manchester. The design was won against 50 entries in competition with rather faint praise from its judge, Mr George H. Willoughby FRIBA, of Manchester: "The elevations are in a semi-Elizabethan manner, treated in the Manchester way, like a recent large school design, which was the subject of much controversy in the district. While suitable in this case, the treatment is not suitably dignified to warrant its adoption for other similar public buildings" The Builder's Journal April 17, 1907.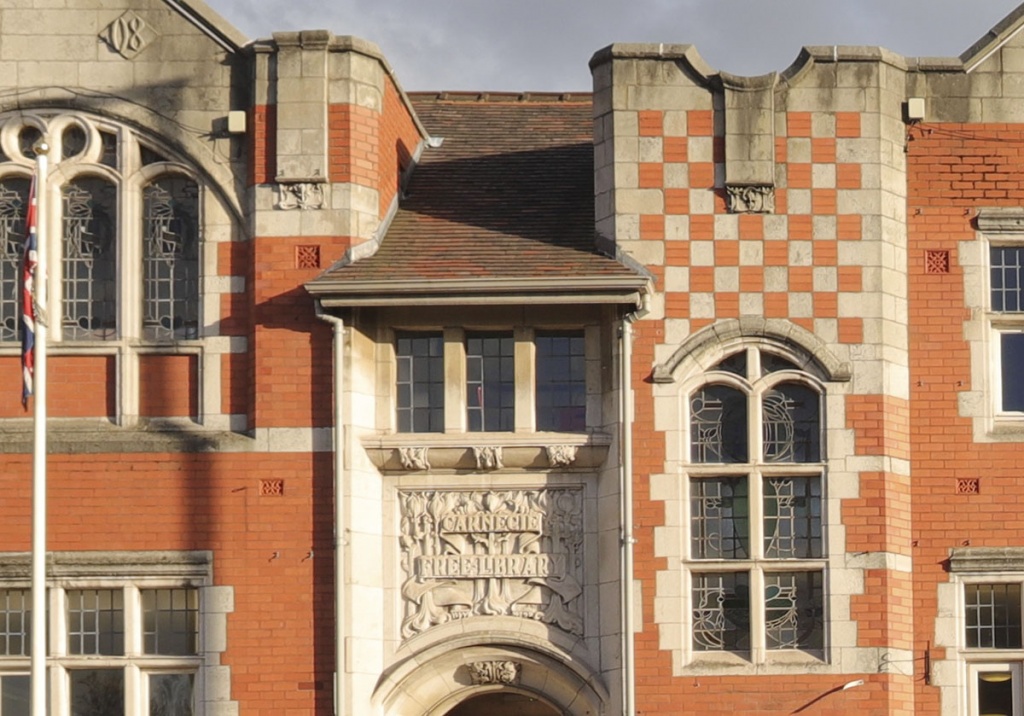 Our study has identified 203 such buildings remaining in the UK:
Library Name
Designed by
Date
Postcode
Accrington Carnegie Public Library
William J. Newton (Borough Engineer)
1908
BB5 1NQ
Ashby Library
W.H.Buttrick
1906
DN16 2JX
Ashton in Makerfield Library
J. B. & W. Thornley
1906
WN4 9BH
Askam Library
W. Richardson (District Surveyor)
1905
LA16 7AQ
Atherton Library
Arthur John Hope (Bradshaw, Gass and Hope)
1905
M46 9JH
Baldridgeburn Library
Hugh & David Barclay
1909
KY12 9EH
Banbridge Free Library and Technical School
Henry William Edward Hobart
1902
BT32 3JY
Bangor Carnegie Library
Ernest L. Woods (town surveyor)
1910
BT20 4AJ
Bangor Public Library
Dixon & Potter
1907
LL57 1DT
Barry Library
Charles Edward Hutchinson and A. H. Payne
1906
CF63 4RW
Battle library (one of 2 branches for Reading)
F.W.Albury
1908
RG30 1EE
Belfast – Carnegie Old park
Watt and Tullock
1906
BT14 6FR
Belfast – Donegall Road Carnegie Library
Watt and Tullock
1909
BT12 5JL
Belfast – Falls Road Library
Watt and Tullock
1908
BT12 4PD
Benwell and Fenham Library
F.H. Holford
1909
NE4 8XS
Beoley carnegie reading room
William Frederick Edwards
1905
B98 9AN
Bethnal Green Library
James Tolley
1922
E2 0HL
Bideford Library and Museum
A.J. Dunn
1906
EX39 2HR
Birkenhead South Branch Library
J.R. Mewton
1908
CH42 3UZ
Birmingham – Aston Cross
Council Surveyor
1903
B6 5RW
Birmingham – Bartley Green Library
William Frederick Edwards
1905
B32 3QG
Birmingham – Erdington Library
John P. Osborne
1907
B24 9HP
Birmingham – Kings Norton Library
Benjamin Bower
1906
B30 3EU
Birmingham – Rednal and Rubery Reading Room
Benjamin Bower
1909
B45 8EN
Birmingham – Selly Oak Library
John P. Osborne
1906
B29 6AE
Birmingham – Toll End Branch Library (with Tipton)
George H. Wenyon
1907
DY4 0lW
Blackpool Central Library
Alex Cullen, Lochhead & Brown
1911
FY1 1PX
Boldon Colliery Library
1905
NE35 9HZ
Bolton – Astley Bridge Branch Library
Arthur John Hope (Bradshaw, Gass and Hope)
1910
BL1 8NP
Bolton – Farnworth Library
W.J. Lomax
1911
BL4 7PG
Bolton – Great Lever
Arthur John Hope (Bradshaw, Gass and Hope)
1910
BL3 2HE
Bournemouth – Boscombe Library
Charles Thomas Miles
1910
BH1 4AS
Bournemouth – Springbourne Public Library
Harry E. Hawker & Victor Mitchell
1909
BH8 8BX
Bournemouth – Westbourne Library
Charles Thomas Miles
1916
BH4 8DX
Bournemouth – Winton Library
Harry E. Hawker & Victor Mitchell
1907
BH9 2EN
Brentford Library
Thomas Henry Nowell Parr (Council Surveyor and Architect)
1904
TW8 8DW
Bridgend Library
P.J. Thomas
1907
CF31 1EF
Buckley Library (Town Council)
R. Cecil Davies (District Surveyor)
1904
CH7 2JB
Calne Library
Smith & Mashall
1905
SN11 0SQ
Cardiff – Whitchurch Library
R & S Williams
1904
CF14 7XA
Castleford Forum Library & Museum
G.H. Vernon Cale
1905
WF10 1BB
Castleton Carnegie Library
Jesse Horsfall
1905
OL112ST
Caversham Free Public Library (one of 2 branches for Reading)
W.G. Lewton
1907
RG4 8AU
Chadderton Library
Arthur Reginald Groome & James Lindsay Grant
1905
OL9 6JN
Chatham Library
George Edward Bond
1904
ME4 4NP
Chelmsford Public Library
Frederic Chancellor & Son
1906
CM1 1NG
Clapton Public Library
Sir Thomas Edwin Cooper
1913
E5 8RA
Coedfranc Carnegie Hall (ex) Skewen Libray (Carnegie Hall)
J. Cook Rees
1905
SA10 6LH
Colne
1907
BB8 0RY
Colwyn Bay Library
JM Porter and Mr Hunter
1905
LL29 7DH
Coseley Library
1905
WV14 9DW
Costessey Library
Postle and Webster
1907
NR8 5AA
Coventry – Earlsdon Library
J.E. Swindlehurst (City Engineer and Surveyor)
1913
CV5 6FZ
Coventry – Foleshill Library
J.E. Swindlehurst (City Engineer and Surveyor)
1913
CV6 5BG
Coventry – Stoke Library
J.E. Swindlehurst (City Engineer and Surveyor)
1913
CV2 4EA
Criccieth Library
Rowland Lloyd-Jones (County Architect)
1905
LL52 0RN
Crompton Library
Jesse Horsfall
1907
OL2 8PB
Custom House Library
John G. Morley (Borough Engineer)
1905
E16 3JJ
Dalton in Furness Library
W. Richardson (District Surveyor)
1905
LA15 8AF
Deptford Library
Sir Alfred Brumwell Thomas
1914
SE14 6PD
Derby – Normanton Branch (Pear Tree) Library
Charles Bakewell Sherwin
1916
DE23 8NQ
Doncaster – Balby with Hexthorpe
1903
DN4 0PL
Dover Library
1903
ct16 1bb
Dudley – Brierley Hill Free Library and Technical Institute
L.J. Harper (Town Surveyor)
1903
DY5 3SU
Dundee – Coldside Library
James Thomson & Frank Drummon Thomson
1908
DD3 7SE
East Greenwich Library
Sidney Richard J. Smith
1905
SE10 0RL
East Ham Carnegie Library
Adam Horsburgh Campbell
1908
E6 2RT
Edinburgh – Balerno
1907
EH14 7EQ
Eltham Central Library (Woolwich)
Maurice Bingham Adams
1906
SE9 1HA
Enfield (central) Town Library
Richard Collins (Borough Architect)
1912
EN2 6AX
Enfield Highway Library
Richard Collins (Borough Architect)
1910
EN3 5BN
Erith Carnegie Library
William Egerton
1906
DA8 1TL
Exeter City Library
Sidney K. Greenslade
1930
EX4 3EG
Fenton Library
F.R. Lawson
1906
ST4 3AF
Folkestone Library
Brightwen Binyon
1910
CT20 1HD
Fratton Carnegie Library (Portsmouth)
George Rake & Arthur Edward Cogswell
1906
PO1 5EZ
Fulham Central Library
Henry Thomas Hare
1909
SW6 5NX
Gainsborough Library
H.G. Gamble
1905
DN21 2NG
Gateshead Central Library
David William Ditchburn
1926
NE8 4LN
Grantham Museum
Gilbert A. Ballard (Borough Surveyor)
1926
NG31 6PY
Gravesend Library
Edmund John Bennett
1905
DA12 1AQ
Hackney Library
Henry Arthur Crouch
1908
E8 1HE
Hammersmith Library
Henry Thomas Hare
1905
W6 7AT
Hanwell Library
T. Gibbs Thomas
1905
W7 3HL
Harlesden Library
John Cash Originally in 1894
1910
NW10 8SE
Hartlepool Headland Library
H.C. Crummack (Borough Engineer)
1904
TS24 0LT
Hendon Library
T.M. Wilson
1929
NW4 4BQ
Huthwaite Library
Ernest W. Bostock
1913
NG17 2NE
Ilkeston Library
Hunter and Woodhouse
1904
DE7 5RN
Ipswich County Library
Henry Munro Cautley
1924
IP1 3DE
Irchester Library
Edward Sharman & Archer
1909
NN29 7AA
Islington North Library
Henry Thomas Hare
1906
N7 6JX
Islington South Library
Sir Mervyn Edwin Macartney
1921
N1 2SL
Islington West Library
Arthur Beresford Pite
1907
N1 1BD
Johnstone Library
Thomas Graham Abercrombie and James Steel Maitland
1935
PA5 8AR
Keighley Library
Arthur Ernest McKewan & James Arthur Swan
1904
BD21 3SH
Kensal Rise Library
Donne, Hunter & Co. (Orig 1900)
1904
NW10 5JA
Kettering Library
J. Goddard, A.H. Paget & W.A. Catlow
1904
NN16 0AY
Kilburn Library
Mr G.A. Sexton (Original building by Edmeston & Gabriel in 1894)
1907
NW6 6NN
Kingston-upon-Thames Public Library (Museum and Art Gallery)
Alfred Cox
1903
KT1 2PS
Knutsford Library
Alfred Darbyshire
1904
WA16 8BN
Lambeth Herne Hill Carnegie Library
H. Wakeford & Sons
1906
SE24 0AG
Larne Carnegie Library
Nicholas Fitzsimons
1906
BT40 1RN
Lea Bridge Library
William Jacques
1906
E10 7HU
Leeds – Bramley Library
George Herbert Foggitt & J. Addison
1927
LS13 3ND
Leeds – Burley Library
Gilbert Burdett Howcroft
1926
LS6 1QL
Leeds – Compton Road Library (Harehills)
Arthur William Kenyon
1927
LS9 7BG
Leicester Central Library
Edward Burgess
1905
LE1 6AA
Littleborough Library
S. Butterworth & W.H. Duncan
1903
OL15 9HE
Littlehampton Library
Harry Howard
1906
BN17 5NA
Liverpool – Crosby Library
C.J. Anderson
1905
L23 3DP
Liverpool – Old Swan Library
Thomas Shelmerdine (Corporation Architect and Surveyor)
1913
L13 5XG
Liverpool – Sefton Park Library
Thomas Shelmerdine (Corporation Architect and Surveyor)
1911
L17 4JS
Liverpool – Toxteth Library (South-end)
Thomas Shelmerdine (Corporation Architect and Surveyor)
1902
L8 1XF
Liverpool – Walton and Fazakerley Library
Arnold Thornely
1911
L9 2AF
Liverpool – Waterloo Library
Black & Milligan
1908
L21 6NH
Liverpool – West Derby (Tue Brook)
Thomas Shelmerdine (Corporation Architect and Surveyor)
1905
L13 7GD
Long Eaton Library
Child, Gorman and Ross
1906
NG10 1JG
Loughborough Library
Barrowcliff & Allcock
1905
LE11 3DZ
Lurgan Library
Henry William Edward Hobart
1906
BT66 6AS
Maidenhead Library
Arthur Ernest McKewan & G.H.V. Cole
1904
SL6 1RF
Malvern Library
Henry Arthur Crouch
1906
WR14 2HU
Manchester – Didsbury Library
Henry Price (City Architect)
1915
M20 2DN
Manchester – Failsworth Library
Ernest Ogden & Percy Cartwright Hoy
1909
M35 0AE
Manchester – Levenshulme Library
James Jepson
1904
M19 3QE
Manchester – Norden Old Library
1903
OL12 7RB
Manchester – Radcliffe library
Henry Lord
1907
M26 1WR
Manor Park Library
Adam Horsburgh Campbell (Borough Surveyor)
1905
E12 5JY
Melton Mowbray Library
Edmund Jeeves
1905
LE13 1RB
Merthyr Tydfil – Treharris Library
William Dowdeswell
1909
CF46 5ET
Neston Library
Green Knowles & Russell
1907
CH64 6QE
New Cross Library
Castle & Warren
1911
SE14 5BA
Newbury Library
S. James Lee Vincent (Borough Surveyor)
1906
RG14 5DH
Newport Carnegie Library
C.T. Ward (Borough Architect)
1907
NP19 0GP
Normanton Library
Arthur Hartley
1907
WF6 2EE
Northfleet Library
1903
DA11 9JS
Nottingham – Carlton Library
J.C. Haller (County Surveyor)
1906
NG4 3AY
Nottingham – Meadows Southern Branch Library
Arthur Dale City Engineer's Office)
1925
NG2 2DR
Nottingham – Radford Lenton Library
T.Wallis Gordon (City Engineer)
1926
NG7 2BY
Oswaldtwistle Carnegie Library
Frank Quentery Farmer
1915
BB5 3HS
Pemberton Library
J. B. & W. Thornely
1907
WN5 9DQ
Peterborough Library
Alfred George Hall & John Henry Arthur Phillips
1905
PE1 1RS
Plumstead Public Library
Frank Sumner (Borough Surveyor)
1904
SE18 1JL
Plymouth Library, Museum and Art Gallery
Thornley & Rooke
1910
PL4 8AJ
Pontefract Library
Garside & Pennington
1905
WF8 1BA
Pontypool Library
Speir & Bevan
1908
NP4 6JL
Portadown Library
James William Walby
1905
BT62 3NE
Rawmarsh Carnegie Library
Joseph Platts
1905
S62 6DS
Runcorn Library
James Wilding
1906
WA7 1JL
Rushden Library
William Beresford Madin (Town Surveyor)
1905
NN10 0PT
Salisbury Library
Alfred Champney Bothams
1905
SP1 1BG
Sandown Library
James Newman
1905
PO36 8AF
Sandwell – Blackheath Library (Rowley Regis)
Herbert Winkler Wills and John Anderson
1909
B65 8BY
Sandwell – Cradley Heath Library (Rowley Regis)
Herbert Winkler Wills and John Anderson
1909
B64 5JU
Sandwell – Dudley Library
George H. Wenyon
1909
DY1 1HR
Sandwell – Langley Green Library (Oldbury & Langley)
Abel Round
1909
B68 8QT
Sandwell – Wednesbury Library
Crouch Butler and Savage
1908
WS10 9EH
Sandwell – West Bromwich Central Library
Stephen James Holliday
1907
B70 8DZ
Seven Kings Library (Ilford)
H. Shaw (District Surveyor)
1909
IG3 8RW
Sevenoaks Library
Edwin Evans Cronk
1905
TN13 3AB
Skipton Library
J. W. Broughton & J. Hartley
1910
BD23 1JX
Southall Library
R. Brown (Council Surveyor)
1905
UB2 4BL
Southend Library
Henry Thomas Hare
1906
SS2 6EW
St Albans Carnegie Library
Francis Guilford Waddell-Dudley
1911
AL1 3JJ
Stanley Road Reading Room (Kirkdale Library)
1911
L5 7QQ
Stapleford Library
R. Smith
1906
NG9 8EY
Stisted Montefiore Institute
1909
CM7 8AW
Stoke Newington Library
H.H. Bridgman & Goss (originally 1892)
1904
N16 0JS
Stourbridge Library
Frederick Woodward (Council surveyor)
1906
DY8 1QH
Sunderland – Hendon Carnegie Library
Edward Cratney
1908
SR2 8JG
Sunderland – Kayll Road West Branch Library
Hugh Taylor Decimus Hedley
1909
SR4 7TW
Sunderland – Monkwearmouth Branch Library
Edward Cratney
1909
SR6 0DR
Sutton Library
Briggs & Wolstenholme
1905
WA9 3PZ
Sydenham Library
Albert L. Guy
1904
SE26 5SE
Tamworth Central Library
Ernest Robert Danford
1905
B79 7DN
Teddington Library
Henry Arthur Cheers
1906
TW11 8NY
Thatto Heath Library
Arthur W. Bradley (Borough Engineer)
1915
WA10 3QX
Thornaby-on-Tees library
1904
TS17 6DE
Thorne Library
E.H. Ballan
1906
DN8 4BQ
Thornton Heath Library (Croydon)
Eric Edwin Hodder & G.F. Carter
1914
CR7 7JB
Tipton library (with Toll End)
George H. Wenyon
1906
DY4 8SW
Tiverton Library
1902
EX16 6SA
Tonbridge Library
John Henry Arthur Phillips
1905
TN9 1TG
Torquay Library
Thomas Davison
1907
TQ2 5RA
Torridon Library (Hither Green – Corbett Community Library)
Henry Hopton
1907
SE6 1RQ
Torryburn Library
William Ramage
1911
KY12 8SR
Tottenham Central Library
Extension by Borough Engineer, W.H. Prescott. Originally Edmeston & Gabriel 1896
1907
N17 6QN
Townhill Branch Library
Peter Lyle Barclay Henderson With Mr Brown Inspector of Works
1906
KY12 0EN
Twickenham Library
Howard Goadby
1907
TW1 3JT
Tyldesley Library
Col. Arthur John Hope (Bradshaw, Gass and Hope)
1909
M29 8AH
Uxbridge Library
1904
UB8 1HD
Walkley Library
William Frederick Hemsoll & Henry Leslie Paterson
1905
S6 3TD
Wallasey (Liscard) Central Library
R.B. MacColl & George Edward Tonge
1911
CH45 5DX
Walsall Central Library
James Glen Sivewright Gibson
1906
WS1 1TR
Walthamstow Central Library
J.Williams Dunford
1909
E17 7JN
Watford Central Library
Hugh Andrew Gold & W.W. Newman
1928
WD17 3EU
West Greenwich Library
Herbert Winkler Wills and John Anderson
1907
SE10 8NN
Westhoughton Library
Halsall, Tonge & Campbell
1906
BL5 3AT
Willesden Green Library
A.H. Murray Rust
1907
NW10 2SF
Wolverhampton Library
Henry Thomas Hare
1902
WV1 3AX
Wrexham Carnegie Library
Vernon Hodge
1907
LL11 1AT
Yarlington
1919
BA9 8DY
York Central Library
Brierley and Rutherford
1927
YO1 7DS
---
[i] http://www.scottisharchitects.org.uk/architect_full.php?id=206589 accessed 15.5.20